Weight Loss
Top 10 Egg Recipes for Weight Loss, According to Nutritionists
Nahida Wankhade
May 9, 2023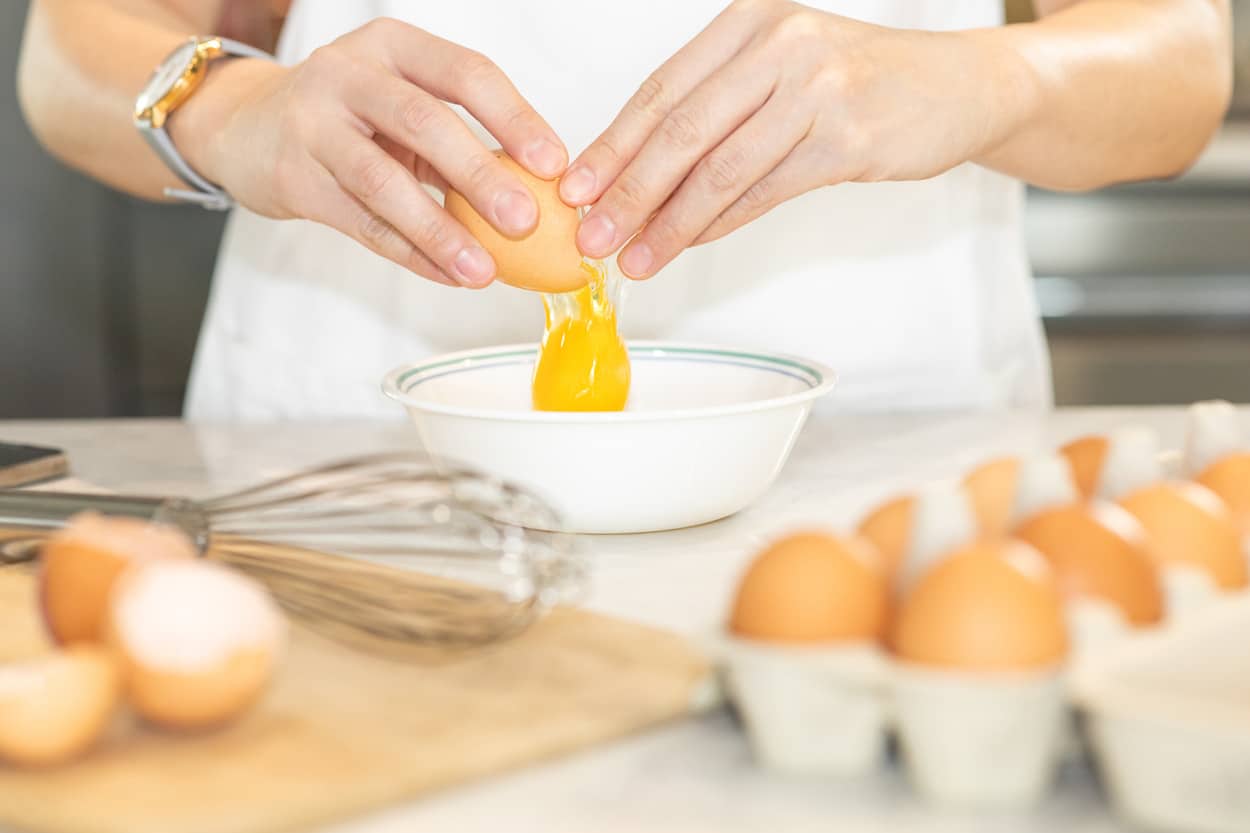 Getty Image/ Shutterstock
Eggs are an extremely nutritious food known to benefit weight loss. They are a fantastic source of high-quality protein, a highly satiating nutrient. Therefore, consuming eggs reduces overeating and snacking between meals. Furthermore, eggs are relatively low in calories, with one large egg containing around 70-80 calories. Eggs are rich in essential nutrients such as vitamins, minerals, and antioxidants, which support overall health and well-being.
Eggs are easy to prepare, and numerous recipes contain eggs. However, though eggs can benefit weight loss, one should consume them as part of a healthy and balanced diet that includes a variety of whole grains, vegetables, and healthy fats. Overall, eggs can help support weight loss efforts and improve overall health.
Regarding cholesterol in particular, there has been some debate in the past about whether eggs are healthy or not. However, current thinking holds that eggs are beneficial when consumed in moderation because they can be a good source of protein and other crucial nutrients.
This article explores the nutritional contents of eggs and possible benefits for weight loss. It also provides various weight-loss-friendly recipes on eggs.
Nutritional Value of Eggs
According to USDA, 100 grams of eggs contain the following nutrients.
Energy: 143 kcal
Carbohydrates: 0.72 g
Protein: 12.6 g
Fat: 9.51 g
Fibre: 0 g
Phosphorus: 198 mg
Zinc: 1.29 mg
Calcium: 56 mg
Magnesium: 12 mg
Potassium: 138 mg
Folate: 47 µg
Eggs are full of nutrients. They benefit the eyes, bones, muscles, brain development, metabolism, liver function, etc. However, there is a common myth that egg yolks are bad for health. The truth behind egg yolks is that it is rich in vitamins B12, A, D, E, and K. It also contains several minerals like folate, riboflavin, iron, etc. In addition, egg yolk is rich in dietary cholesterol, which does not cause blood cholesterol levels to rise. The main culprit for high cholesterol is trans fat. Dietary cholesterol in egg yolks is beneficial for health as it aids in producing certain hormones.
Benefits of Eggs for Weight Loss
Eggs are a nutritional powerhouse. It is low in calories. A large egg only has about 74 calories. Egg yolks are exceptionally nutrient-dense. Furthermore, the high protein content of eggs makes them satiating. According to investigations, there are several health benefits of egg protein. Compared to diets with less protein, high-protein foods suppress hunger and improve feelings of fullness. In addition, studies suggest eggs are good for weight loss.
The nine essential amino acids your body requires are all present in eggs. Research suggests protein is good for weight loss. Also, consuming a high-protein diet can accelerate the thermic effect of food, which can raise metabolism by up to 80–100 calories per day. The term "thermic effect" describes the energy the body requires to break down food. Studies suggest protein has a more significant thermic effect than fat or carbohydrates. Therefore, high-protein foods like eggs can enhance your calorie expenditure to aid with weight loss.
Summary
Eggs are a powerhouse of nutrients. There are approximately 74 calories present in a large egg. Eggs are nutrient-dense and filling due to their high protein content. Research findings suggest eggs help you lose weight. Eggs contain all nine amino acids that your body needs. Also, eating a diet high in protein can speed up the thermic action of food, increasing metabolism. Protein has a more substantial thermogenic effect when compared to fat or carbohydrates. Therefore, high-protein foods like eggs can increase your calorie expenditure to help you lose weight.
Best Egg Recipes for Weight Loss
1. Egg Drop Soup 
Servings: 6
Total time: 15 minutes
Ingredients
Chicken stock: 4 cups
Salt: to taste
Sesame oil: ½ tsp
Turmeric: ½ tsp
Pepper: to taste
Eggs: 3
Method
Bring the chicken stock to a boil. Stir in sesame oil, salt, pepper, and turmeric. 
Beat the egg lightly and slowly drizzle it over the soup until you have added it all. 
Stir the soup for a couple of minutes. 
It is ready to serve.
2. Egg Sandwich
Servings: 2
Total time: 20 minutes
Ingredients
Sliced Boiled Eggs: 2
Cucumber: 1 (sliced)
Pepper: to taste
Salt: to taste
Brown bread: 4 slices
Method
Arrange the slices of cucumber and boiled egg on the brown bread. Sprinkle with salt and pepper. Place another slice of brown bread on top.
Cut the sandwiches into two halves and serve them.
3. Egg Salad
Servings: 2-4
Total time: 25 minutes
Ingredients
Boiled Egg – 3
Onions – 2 tbsp chopped
Carrot – 2 tbsp grated
Greek Yogurt – 2 tablespoons
Dijon Mustard – 1 tsp
Celery stalk -2 tbsp
Salt to taste
Pepper to taste
Method
Chop onions and mix them in a bowl with grated carrot, celery stalk and eggs.
Whisk the yoghurt with dijon mustard, salt and pepper.
Pour the yoghurt mix over the salad and mix well.
Serve. 
4. Healthy Egg Pizza
Servings: 2
Total time: 10 minutes
Ingredients
Egg: 1
Chia seeds: 1 tbsp
Flaxseeds: 1 tbsp
Red chilli flakes: 1 tbsp
Salt: to taste
Pepper: to taste
Multi-grain bread: 4 slices
Olive oil: 2 tbsp
Onion: 1 cup (chopped)
Method
Whisk egg with chopped onions, chilli flakes, pepper, salt, chia seeds, and flaxseeds.
Heat oil and pour the egg mixture into the saucepan.
Place bread slices on top of the egg mixture and let it cook for 3-4 minutes.
Gently flip the egg and cook it for another 2 minutes.
Serve it hot
5. Broccoli-eggs in a Mug
Servings: 1
Total time: 5 minutes
Ingredients
Broccoli florets: 1 cup
Egg: 1
Salt: to taste
Pepper: to taste
Method
Boil the broccoli florets until very tender. Mash it and keep it aside.
Get a microwave-safe mug and crack an egg in it.
Add salt and pepper and beat it with a fork. Add the mashed broccoli.
Put it in the microwave for 5 minutes.
Serve it warm.
6. Baked Eggs Cups With Mushroom and Spinach 
Servings: 6
Total time: 30 minutes
Ingredients
Eggs: 6
Mushrooms: 3 cups
Spinach: 2 cups
Salt: to taste
Pepper: to taste
Method
First, preheat the oven for 10 minutes at 180 degrees Celsius.
You can use small muffin cups to make this recipe.
Add egg, chopped spinach, sliced mushroom, salt, and pepper in a bowl and mix it with a fork. Add this mix into muffin cups.
Place it in the oven for 15-30 minutes.
Serve it hot.
7. Savoury French Toast Stuffed With Yoghurt
Servings: 2
Total time: 30 minutes
Ingredients
Yoghurt: 1 cup
Eggs: 2
Salt: to taste
Pepper: to taste
Onion: ½ cup (chopped)
Chillies: 3 (chopped)
Olive Oil: 1 tbsp
Wheat bread slices: 4
Method
Add eggs, salt, pepper, chopped onions, and chillies in a bowl and mix well.
Heat oil in a saucepan.
Dip the bread slices in the egg mixture and fry it.
When it is fried, keep it on a serving plate and add two tbsp of yoghurt and serve hot.
8. Spinach Omelette
Servings: 1
Total time: 5 minutes
Ingredients
Eggs: 3
Spinach: 1 cup (Finely chopped)
Coriander leaves: ¼ cup
Salt: to taste
Black pepper: to taste
Olive oil: 1 tbsp
Method
Crack the eggs into a bowl and whisk them.
Add the finely chopped spinach and coriander leaves
Add salt and pepper to taste and beat all together.
Heat the pan and add some oil.
Spread the egg and spinach mixture and cook on a medium heat.
Serve spinach omelette immediately.
9. Mini-egg Burgers
Servings: 4
Total time: 20 minutes
Ingredients
Eggs: 4
Lettuce: 4
Tomato: 4 slices
Method
Boil the eggs and slice them in halves horizontally.
Put lettuce and a slice of tomato in between
Put a toothpick in between so that it is stable.
Enjoy!
10. Deviled Eggs  
Servings: 2
Total time: 20 minutes
Ingredients
Eggs: 6 large
Greek yoghurt: ¼ cup
Apple cider vinegar: 1 tsp
Salt: to taste
Pepper: to taste
Chilli flakes: to taste
Method
Boil the eggs and remove their shells.
Slice the eggs into halves, remove the yolks, and place them in a small mixing bowl.
Mix well with Greek yoghurt, apple cider vinegar, salt, and pepper.
Spoon the yolk mixture into the centre of the yolk. You can serve the eggs with sprinkled chilli flakes.
HealthifyMe Suggestions
The high protein content in egg frittatas can promote satiety and reduce cravings, making them an excellent option for weight management. In addition, frittatas are a great way to use leftover vegetables and meats. Whisk eggs with milk, add cooked veggies and lean meat, and bake in a skillet for an easy and nutritious meal. For additional nutrition, serve with a side salad made with fresh ingredients.
The Final Word
Eggs are jam-packed with goodness. It is rich in vitamins, protein, and minerals. So, eggs are an excellent food choice for individuals looking to improve their health and support weight loss efforts. In addition, eggs can help to promote satiety and reduce the likelihood of overeating. Furthermore, eggs are versatile and can be incorporated into various meals, making them an easy and convenient food to add to your diet. Whether boiled, curried, or omelette, eggs are a highly nutritious and delicious food that provides numerous health benefits when consumed as part of a balanced and healthy diet.
Disclaimer: The purpose of this article is just to disperse knowledge and raise awareness. It does not intend to replace medical advice from professionals. For further information, please contact our certified nutritionists Here.
Frequently Asked Questions (FAQs)
Q: Are eggs a good food to eat when trying to lose weight?
A: Eggs are an excellent choice for individuals trying to lose weight. They are not only low in calories but high in protein. Also, eggs are called a complete protein since they contain all nine essential amino acids.
Q: What are some healthy ways to cook eggs for weight loss?
A: You can have poached or boiled eggs if your watching your weight. Since it does not include extra calories, it is ideal for weight loss. Boiled eggs are convenient to eat and are a no-fuss meal addition. However, always restrict the two whole eggs per day.
Q: Can I eat eggs every day if I want to lose weight?
A: Yes, you can include an egg every day. Adding eggs to your diet is also one of the simplest things you can do. They are rich in protein that will keep you feeling full for a long time and encourage you to consume fewer calories throughout the day.
Q: How many calories are in an egg?
A: Eggs are incredibly low in calories. One hundred grams of eggs contain 145 calories. An egg of medium size typically has 60 calories, whereas an egg of small size has 55 calories.
Q: Is it better to eat the whole egg or just the egg white when trying to lose weight?
A: Egg yolks are not detrimental to weight loss. You can include one or two whole eggs without eliminating any part of it for weight loss. However, limit your intake to not more than 2 whole eggs per day when trying to lose weight.
Q: What are some easy and healthy egg-based meals for weight loss?
A: Some easy and healthy egg-based meals for weight loss include egg salad, scrambled egg, broccoli eggs in a mug, baked eggs with mushroom and spinach, omelette, egg sandwich, etc.
Q: Can I eat eggs for breakfast every day if I want to lose weight?
A: You can eat eggs for breakfast every day. Eggs are packed with protein, fibre, vitamins, and minerals, boosting energy. In addition, including eggs in your breakfast are good for weight loss.
Q: Are boiled eggs good for weight loss?
A: Yes, boiled eggs are an excellent choice for weight loss. It does not contain any extra fat that increases its calorie content. You can cut the boiled egg into slices and add it to your salad, soups, or quinoa bowls.
Q: Can I eat eggs as a snack when trying to lose weight?
A: Eggs can be an ideal snack option for weight watchers. There are different recipes for eggs; some recipes, like spinach and egg cups, hard-boiled eggs, scrambled eggs, egg sandwiches, etc., can be ideal for snacking. It provides good-quality protein.
Q: Are there any egg-based recipes that are not good for weight loss?
A: Consuming eggs that get prepared using too much fat or oil is not suitable for weight loss; for example, egg biriyani, egg butter masala, egg fried rice, fried egg noodles, egg paratha, egg pakora, deviled eggs, etc. These are primarily fried, high in calories and unhealthy fat, and detrimental to weight loss.
Research Sources
1. Data by the US Department of Agriculture on eggs |FDC ID: 171287|
https://fdc.nal.usda.gov/fdc-app.html#/food-details/171287/nutrients
2. Puglisi MJ, Fernandez ML. The Health Benefits of Egg Protein. Nutrients. 2022 Jul 15;14(14):2904. doi: 10.3390/nu14142904. PMID: 35889862; PMCID: PMC9316657.
https://www.ncbi.nlm.nih.gov/pmc/articles/PMC9316657/
3. Ruxton, C.H.S. & Derbyshire, Emma & Gibson, Sigrid. (2010). The nutritional properties and health benefits of eggs. Nutrition & Food Science. 40. 263-279. 10.1108/00346651011043961.
https://www.researchgate.net/publication/235296480_The_nutritional_properties_and_health_benefits_of_eggs
4. Moon J, Koh G. Clinical Evidence and Mechanisms of High-Protein Diet-Induced Weight Loss. J Obes Metab Syndr. 2020 Sep 30;29(3):166-173. doi: 10.7570/jomes20028. PMID: 32699189; PMCID: PMC7539343.
https://www.ncbi.nlm.nih.gov/pmc/articles/PMC7539343/
5. Pesta DH, Samuel VT. A high-protein diet for reducing body fat: mechanisms and possible caveats. Nutr Metab (Lond). 2014 Nov 19;11(1):53. DoI: 10.1186/1743-7075-11-53. PMID: 25489333; PMCID: PMC4258944.